I'm not a big -eat-it-by-itself kinda watermelon gal but I do love it in salads.  This recipe sounds so yummy!!
<I think I'll use mint instead of parsley :)>
Watermelon, Feta, and Kalamata Olive Salad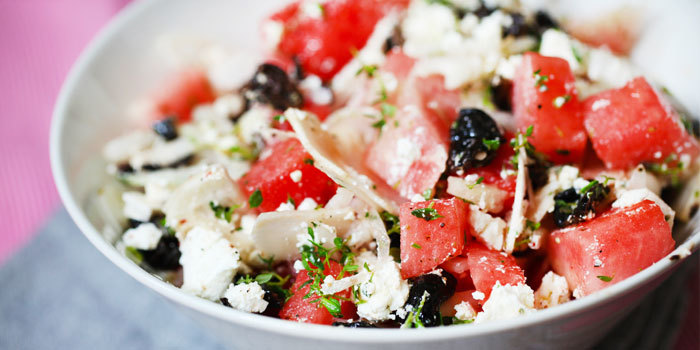 Here is a new take on the popular watermelon and feta salad. Our recipe adds salty kalamata olives and fresh herbs for a surprisingly delicious Mediterranean twist.
Total Time: 15 min.
Prep Time: 15 min.
Cooking Time: None
Yield: 4 servings, about 1 cup each
Ingredients:
2 tsp. extra-virgin olive oil
3 Tbsp. fresh lemon juice
¼ tsp. sea salt
¼ tsp. ground black pepper
4 cups cubed watermelon
¼ cup crumbled (or shaved) feta cheese (about 1 oz.)
2 Tbsp. kalamata olives, pitted
2 Tbsp. chopped fresh parsley (or microgreens)
Preparation:
1. Combine oil, lemon juice, salt, and pepper in a medium bowl; whisk to blend. Set aside.
2. Combine watermelon, cheese, olives, and parsley in a large serving bowl.
3. Drizzle with dressing; toss gently to blend.